Caught My Eye: Indie shawl designs from the GAL
I've been thinking about starting a new series here of some designs that have caught my eye as a browse Ravelry or pick up new (and old) magazines.  These are designs that I might never knit, so I'm not sure I can say I'm "stalking" them as many knitters describe this window shopping experience, but they have elements that I find interesting or attractive.
For my first installment, I want to share some of the shawl patterns by other designers that caught my eye in the Indie Design Gift-a-Long.  These are patterns by new to me designers.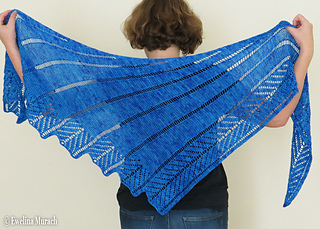 Dreamcatcher is a bias knit shawl by Ewelina Murach which caught my eye because of the diagonal lines of yarn overs, almost rays, coming from one corner of the shawl.  I love how there is some lace texture at the end of each ray that really comes into focus when the shawl is wrapped around the model's neck!
Oolong by Georgie Nicolson was another shawl that jumped out at me.  I love the cream color yarn with the highly textured stitches on the border.  It looks elegant and warm.  (It might help that one of the stitch motifs is one that I just spent the last couple of weeks knitting for an upcoming design!)
Finally, Maribou, a cabled shawl by Kino Knits, was my third pick.  This shawl has a lovely pattern of cable crossings that each end with a shaped point so that they look like feathers.  The center spine on this rectangular shawl also evokes the sense of wings.  I really enjoyed reading the backstory of the inspiration for the shawl.
All these patterns are part of the GAL and are 25% off through Nov. 30, 2016 with the giftalong2016 coupon code!